New Kitchen Lighting – Converting a can light with a Recessed Light Adapter
Oooooh lighting. I'm a bit obsessed with it, at the moment.
I'm pretty sure that we've changed out 90% of our builder-grade light fixtures already, and I don't plan on stopping there 🙂 Beautiful lighting fixtures add tons of interest to a finished space, big OR small, and if you keep your eye out for great deals you won't have to spend a fortune either!
Speaking of small spaces, Cason and I have been a little preoccupied with this tiny nook in our kitchen.
We lost a bit of steam after we put up our
paintable wallpaper
and
wood slat back splash
. But just lately now, we have been
hmm-ing
and
humm-ing
about how to finish off this small space, that has great potential!
First things first, we needed to find a "cool", inexpensive pendant light that would hang down over the sink. But before all of that… we had to figure out how to convert that can light, into a pendant worthy outlet.
Enter in:
THE RECESSED LIGHT ADAPTER KIT!
If you have can lights in your home and dream of pendant lights instead… then this box will open up a window of opportunities 🙂
The installation instructions that came in the box were very self explanatory and easy to follow.
Heck… the picture on the OUTSIDE of the box pretty much shows you everything you need to know, ha!
After we took the can light fixture down, we were in business.
With all of our pieces in hand, we got to work.
We chose this funky, slightly "fisherman style looking"
OTTAVA light fixture from Ikea
, to place over our sink. It only cost us about $30.00 and with a vintage light bulb, we thought it would be a great mix of new and old in our space.
We added a small 10 inch lighting fixture medallion to the top, shortened the cord to the OTTAVA light a little with some electrical pliers, and then installed everything accordingly.
Two VERY important tips when installing new lighting fixtures:
1 – Make sure your main power source is ALWAYS off!
Electrocution = No fun
2 – Once your wires are properly connected, screw in a light bulb to do a test run to make sure everything works, BEFORE finishing your final steps of install. This will save you from having to unscrew/detach everything, if your wires aren't correctly connected the first time.
After we made sure everything worked well, we purchased one of these vintage style light bulbs from our local hardware store to complete the look.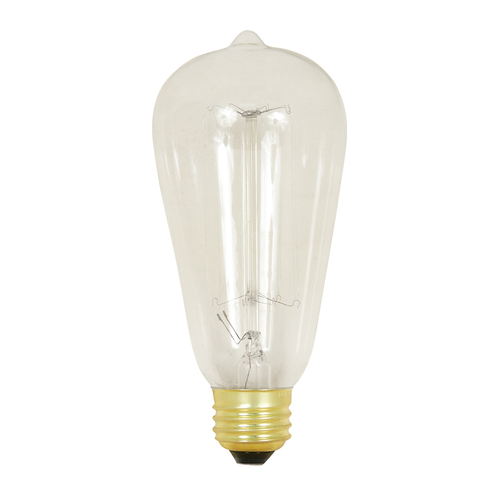 This is our finished product!
Our medallion is a bit loose, due to the screws that the pop out a little from the recessed lighting kit, but we're rigging up a way to fix that problem 🙂
I LOVE the character that this lighting fixture brings.
With the exposed bolts, the shape of the glass, and the glowing filaments from the vintage bulb… it's not JUST a light, it's a piece of decor!
Check out these other great posts on the OTTAVA lighting fixture from Ikea:
Little Home Blog not only has a video, on how to change out a regular lighting fixture, but she also stacked her Ottava light a bit differently.
The Lettered Cottage puts her own spin on this fixture, by adding some rope and frosted glass spray paint, to give her light more of a coastal look.
The Feminist Housewife installed the same light outside on her back porch!